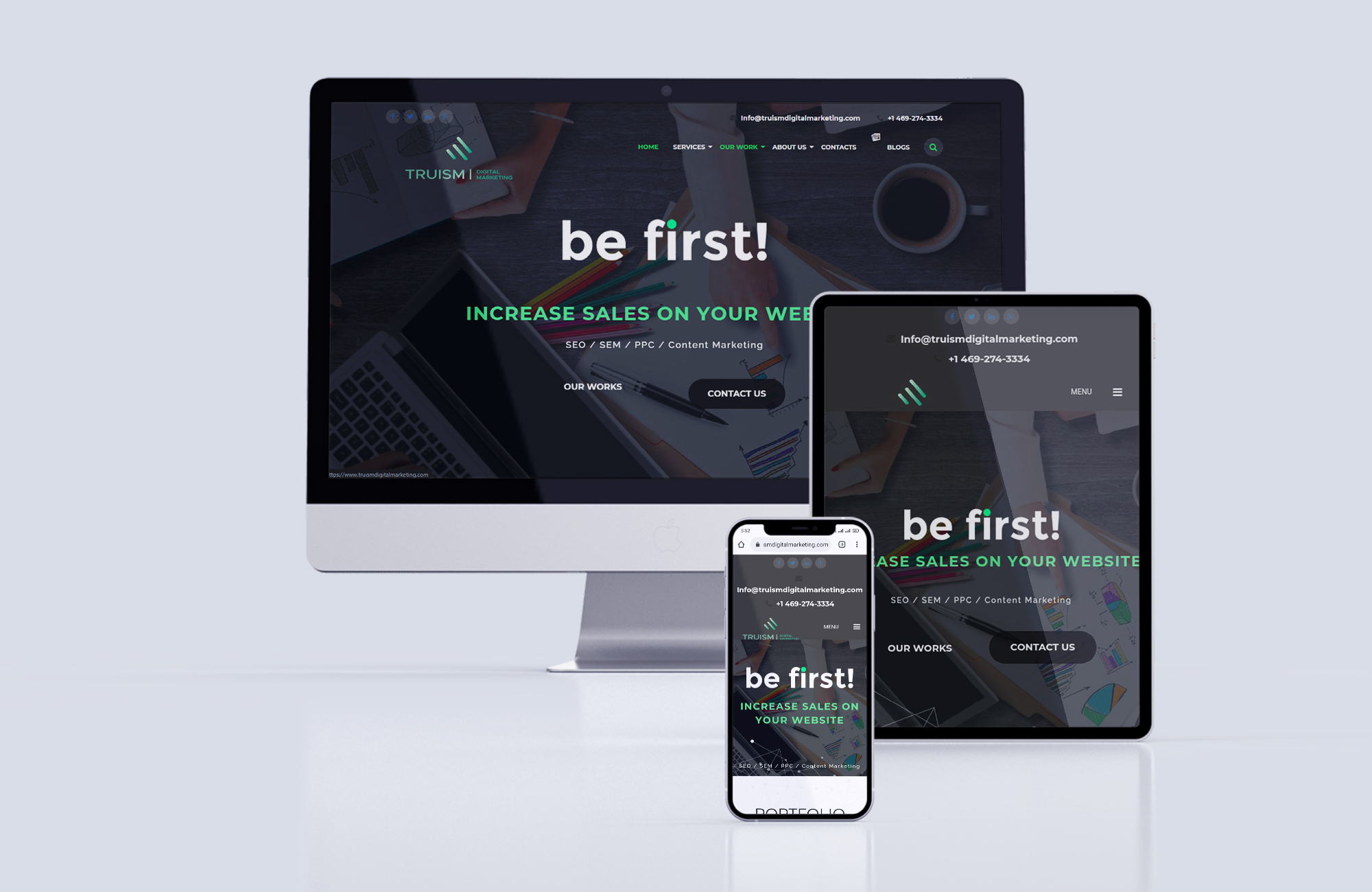 Truism Digital Marketing provides premium WordPress Web Designer services at the most affordable rates ever. We specialize in custom web development and affordable website design for businesses of all kinds and sizes. Our skilled developers understand your business goals and work hard to deliver results that actually matter to you.
We take pride in the fact that our WordPress Web Designer services are used by some of the most successful businesses out there – we have built strong websites for very well-known companies across the globe.
WordPress is one of the most popular CMS used in the development industry right now. The reason for that is that WordPress websites are simple to create and have an extensive range of plugins that can be added very conveniently. Additionally, the CMS is open-source, which means that it is free to install, upgrade, modify, and operate for both developers and users. WordPress Web Designer
WordPress Web Designer Projects
Characteristics of Our Websites
Features of WordPress Websites
WordPress powers around 41% of the web and the figure increases every single day. The reason WordPress is the most used website development tool is that it combines simplicity for users and publishers with under-the-hood complexity for developers.
You can use the thousands of plugins already provided by WordPress or play around with the code to introduce your own functionalities. This provides you with the flexibility to design everything from simple blog websites to complex client portals and full-fledged applications.
Here are the most useful features of WordPress websites we design at Truism Digital Marketing,
Simplicity
One of the most important features WordPress websites have to offer is their simplicity and ease of use. You can create posts and pages with the click of a button. Content can be added, removed, or updated without a lot of hassle and you can work with text as well as media. You just have to press one button and all of it will be saved and updated on your website.
Flexibility
The level of flexibility WordPress websites offer is incredible. You can create all types of websites including blogs, business websites, magazine websites, online community websites, and whatnot. All of that is possible through the themes and templates available, which are completely customizable. The same applies to plugins as well.
Easily Editable Designs
Websites need to be updated with time. Whether it is major edits you need to make to its interface or smaller edits such as updating content or adding blogs on a specific page. For the websites we design, you can update and publish content on your website without having to play around with the code. Everything can be moved around with our intuitive dashboard which does not need any prior coding experience to operate.
SEO Friendly Design
SEO is an essential part of any digital marketing campaign. There are a million changes you need to make to your website to make it Google-friendly – but when we make websites, we build all of that into your website, so you don't have to do a lot on your own. Everything is done according to the latest algorithm requirements and you rank better on search engines by default.
Mobile-Friendly Design
With more and more internet users shifting towards mobile devices, it is important for your website to be mobile friendly so that those mobile users get a good site experience. Our mobile-friendly websites help your mobile customers browse more conveniently and hence have a greater conversion rate.
Flexibility & Customizability
From the very first stage of web development to the end, we make sure that we keep you onboard on every small detail about the website. This way you work closely with us and we are able to incorporate all the changes you want us to. The website is customized according to your vision and you end up one hundred percent satisfied with the results.
Plugins
There is a dedicated plugins library with thousands of plugins that cover almost every need you might have regarding your website. You can add very basic tools such as sign-up forms or complex controls for SEO, etc. right from that library.
Installations & Upgrades
Installing WordPress from scratch is very simple and you can install more upgrades later on. You just need to press a few buttons and the rest will be taken care of automatically.
Since WordPress Web Designer Service is a complex process and involves a lot of implications, we make sure that we handle everything comprehensively so that you don't have to work with multiple parties to get your work done. Here are all the services we as a web design company offer,
Website Designing
HTML/CSS Services
Testing & Quality Assurance
Regular Maintenance & Fixes
Truism Digital Marketing is trusted by some of the biggest names in the industry in creating and maintaining high-quality websites. We are fortunate to be the developers of organizations creating a lot of social impact and generating handsome revenues across the globe. You can completely trust us with your website and you won't be disappointed at all.
WordPress Web Designer Services