Web Design And Development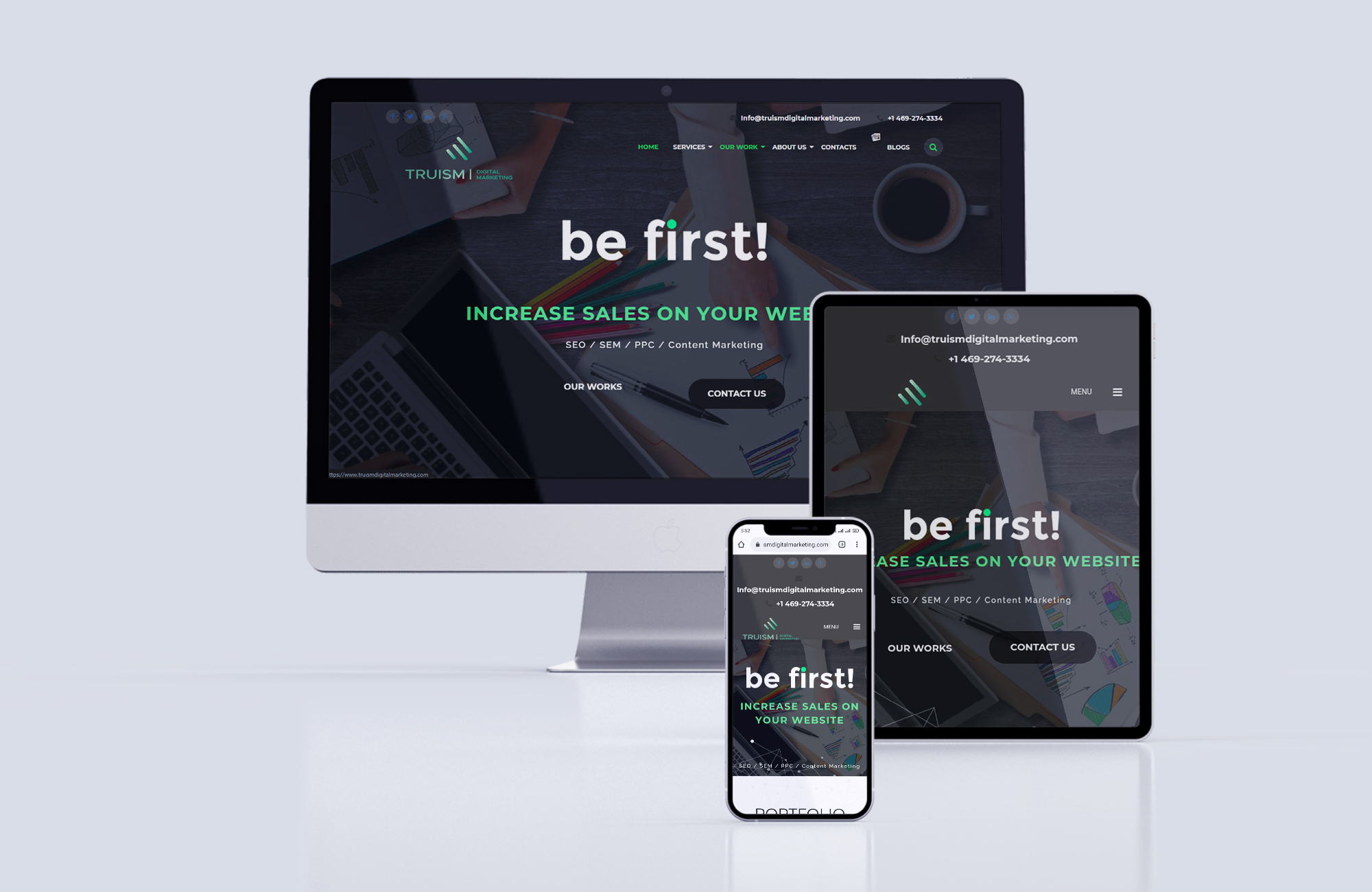 Truism Digital Marketing is ready to create stunning custom websites for your business that will not only appeal visually to your customers but also provide them with the highest level of user experience.
Thanks to our talented team of web developers and designers, we ensure that every visitor that ends up on your website leaves with a memorable experience.
Each website we design is built with a strong foundation of the latest SEO and mobile optimization strategies, keeping all upcoming updates and trends in mind.
Furthermore, we make sure that everything is exactly according to the industry best practices so that the users who land on your website do not find themselves lost in the experience.
Web Design And Development Projects
Characteristics of Our Websites
Hire us for top-notch web design and development services and you won't be disappointed!
The websites we design are absolutely top-notch and we try to achieve perfection down to the last detail. Here are all the characteristics the websites we design have.
Responsive Design
The websites we design are incredibly user-friendly and are designed with responsiveness in mind. The website automatically scales to the size of whatever device or screen it is being used on whether it is a handheld device or a desktop or laptop computer.
Integrated Social Media Functionality
Social media traffic can play a great role in giving your business the boost it needs. For that, we make sure that you can connect your social media profiles with the websites we design for a higher traffic volume and a consistent brand image across all platforms.
Easily Editable Designs
Websites need to be updated with time. Whether it is major edits you need to make to its interface or smaller edits such as updating content or adding blogs on a specific page. For the websites we design, you can update and publish content on your website without having to play around with the code. Everything can be moved around with our intuitive dashboard which does not need any prior coding experience to operate.
SEO Friendly Design
SEO is an essential part of any digital marketing campaign. There are a million changes you need to make to your website to make it Google-friendly – but when we make websites, we build all of that into your website, so you don't have to do a lot on your own. Everything is done according to the latest algorithm requirements and you rank better on search engines by default.
Mobile-Friendly Design
With more and more internet users shifting towards mobile devices, it is important for your website to be mobile friendly so that those mobile users get a good site experience. Our mobile-friendly websites help your mobile customers browse more conveniently and hence have a greater conversion rate.
Flexibility & Customizability
From the very first stage of web development to the end, we make sure that we keep you onboard on every small detail about the website. This way you work closely with us and we are able to incorporate all the changes you want us to. The website is customized according to your vision and you end up one hundred percent satisfied with the results.
Since Web Design and Development is a complex process and involves a lot of implications, we make sure that we handle everything comprehensively so that you don't have to work with multiple parties to get your work done. Here are all the services we as a web design company offer,
Website Designing
HTML/CSS Services
Testing & Quality Assurance
Regular Maintenance & Fixes
Truism Digital Marketing is trusted by some of the biggest names in the industry in creating and maintaining high-quality websites. We are fortunate to be the developers of organizations creating a lot of social impact and generating handsome revenues across the globe. You can completely trust us with your website and you won't be disappointed at all.
Web Design And Development